Emotion, freshness and historical rigour define them. A finely balanced blend of research, intuition and imagination, based on the highest respect for the original work of the great masters of past centuries, allows Los Músicos de Su Alteza to turn old, dead musical notation into music that is alive. Hundreds of performances—concerts, recordings, scientific publications, courses and lectures—in Europe and America demonstrate Los Músicos de Su Alteza's position as a leading ensemble in the recovery and performance of Baroque music. During their existence of over 20 years they have rescued major works from the 17th and 18th centuries from the rich Hispanic heritage, preserved in European and American archives, based on the research of their founder and artistic director, Luis Antonio González.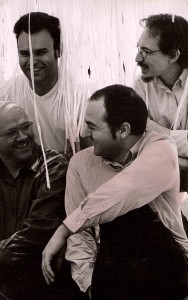 Composers who were previously unknown or rarely performed, such as Joseph Ruiz Samaniego (fl. 1653-1670) or José de Nebra (1702-1768), are today warmly embraced across half the world thanks to the work of Los Músicos de Su Alteza. Since their beginnings, Los Músicos de Su Alteza have boasted a strong group of singers and musicians who stay true to the spirit of recovering the Spanish and European Baroque repertoire with renewed zeal.
A little history
In 1992 Luis Antonio González founded Los Músicos de Su Alteza with the intention of recovering the best Spanish music from the 17th and 18th centuries in the finest possible artistic and historically accurate conditions, within the context of international music of those centuries (from Monteverdi to the classic Viennese, with a special focus on Bach) and by applying criteria supported by musicological research. From the beginning, long-term collaborations were established between the members of the ensemble, many of which continue today, and which always search for communication, understanding and cooperation, beyond that of normal collaborations between freelance musicians. The ensemble has also been based in Saragossa (Aragón, Spain) since its beginnings. 1996 represented the first breakthrough in the career of Los Músicos de Su Alteza: they won an award at the Van Wassenaer Festival in The Hague and began collaborations with several record labels in Spain (Arsis—for which they recorded their first CD in 1996—and Prames) France (Hortus) and the United States (Dorian Records). During these first years, there was a special emphasis on the recovery of Spanish vocal music from the 17th century, especially that of a composer who was practically unknown and who proved to be a revelation: Joseph Ruiz Samaniego.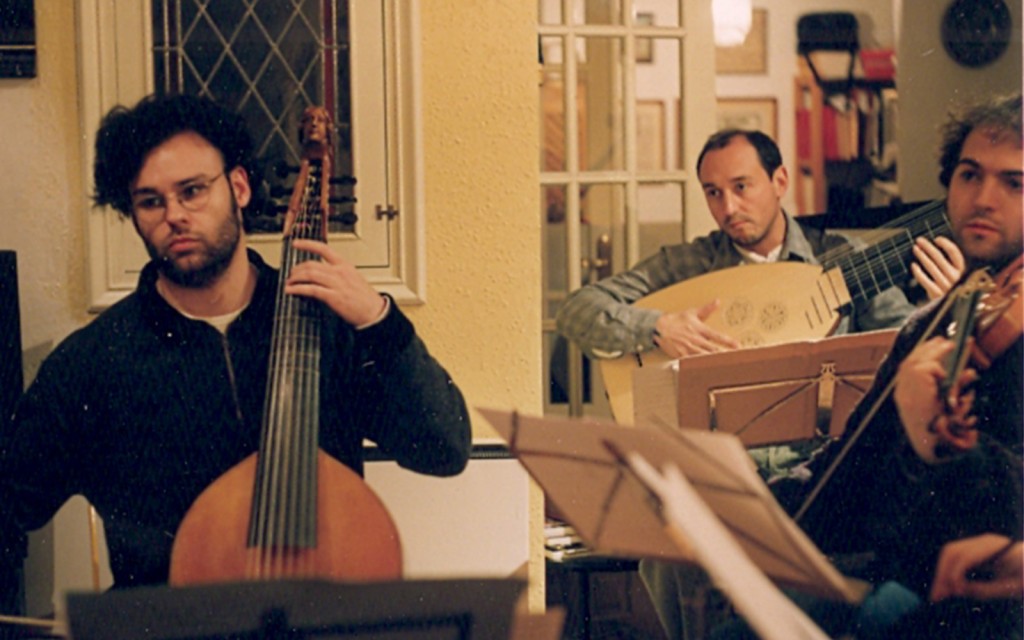 In 2000, they founded the Festival
Música Antigua en la Real Capilla de Santa Isabel
, with the support of the Provincial Government of Saragossa, which they organised until 2011, and began a new phase by creating the first Baroque orchestra in Aragón. This new orchestral ensemble would hereby allow them to present a broader, more ambitious repertoire, including cantatas, suites and concerts by Bach or
concerti grossi
by Händel, and even symphonies by Haydn. With this expansion of the instrumental and vocal ensemble, they were able to take on the task of recovering the music of José de Nebra, one of the most important Spanish composers of all time, and they revived his works in all genres (the opera
Amor aumenta el valor
-released on the label Alpha-, the autos sacramentales
El diablo mudo
and
La divina Filotea
,
Oficio y Misa de Difuntos
,
Miserere a dúo
-recorded for Música Antigua Aranjuez-, villancicos y cantadas...). They also began their collaboration in stage productions (
Cuarenta horas
,
La divina Filotea
,
Il vigilante Dio
), which they combined with conventional concerts and new recordings for the label Alpha (Outhere Music), which they began to work with in 2008.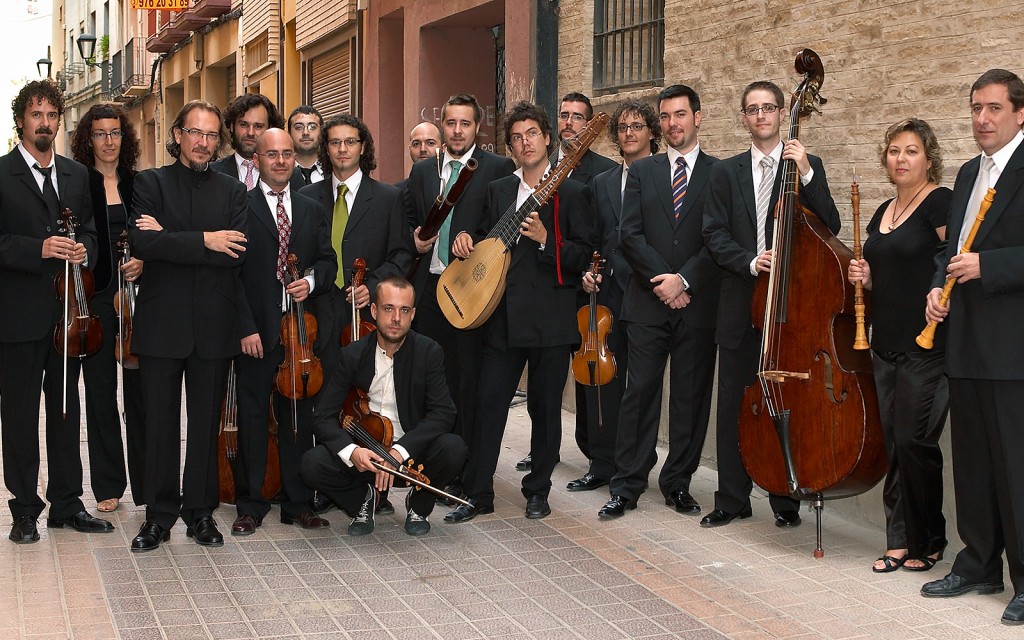 During this time, Los Músicos de Su Alteza have performed on stage with considerable success at the largest festivals in Spain, France, Holland, Belgium, Switzerland, Italy, Great Britain, Mexico, Romania and Tunisia. In recent years, Los Músicos de Su Alteza have shared their experience with young musicians through courses and workshops. Consequently they have led several projects at the
Conservatory of Music of Aragón
(CSMA), the
Conservatorio de las Rosas
(Morelia, Mexico) and the International Early Music Festival in Daroca (Spain). From 2017 onwards Los Músicos de Su Alteza are Resident Ensemble in the Audditorium of Saragossa (Spain).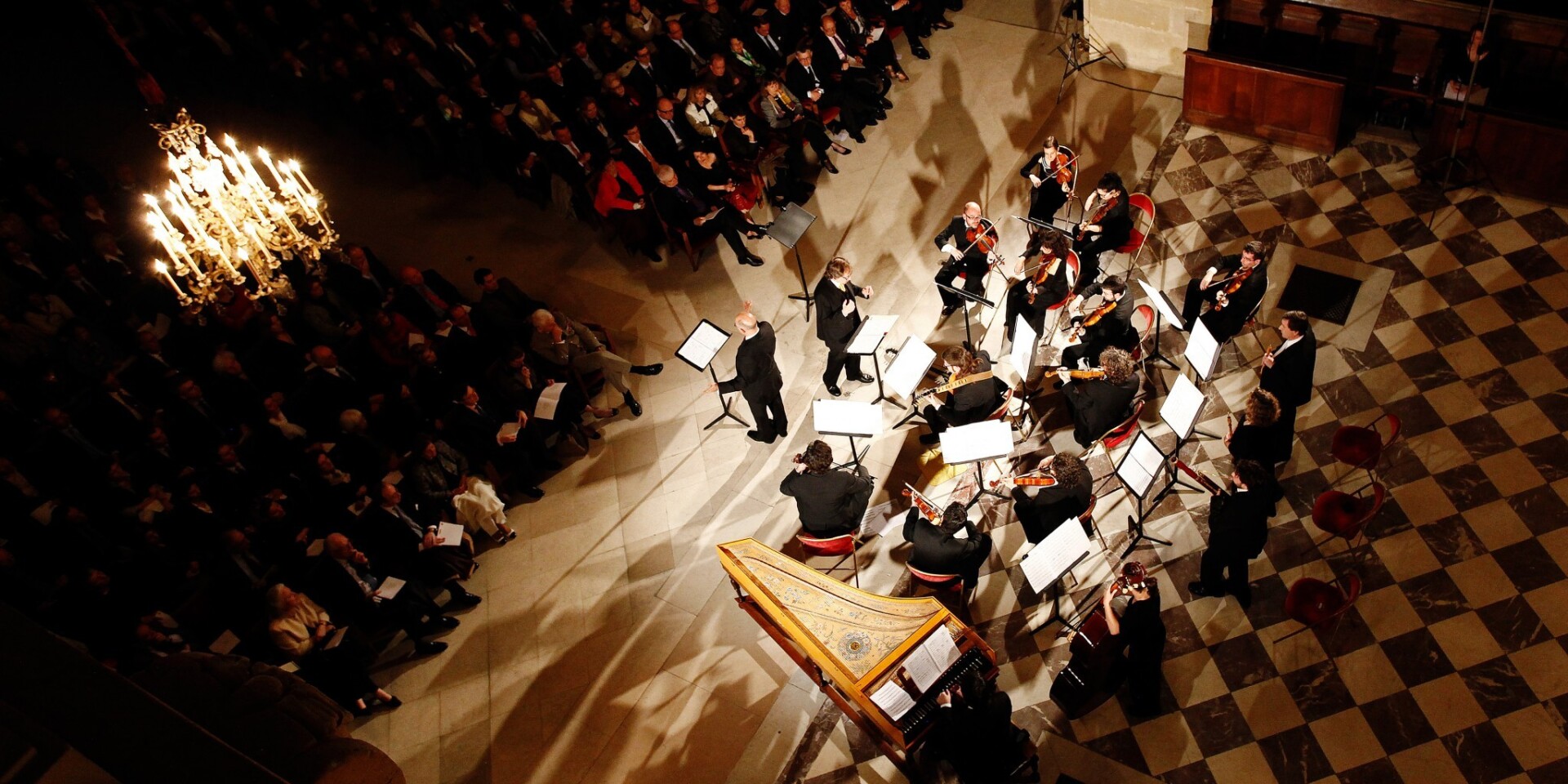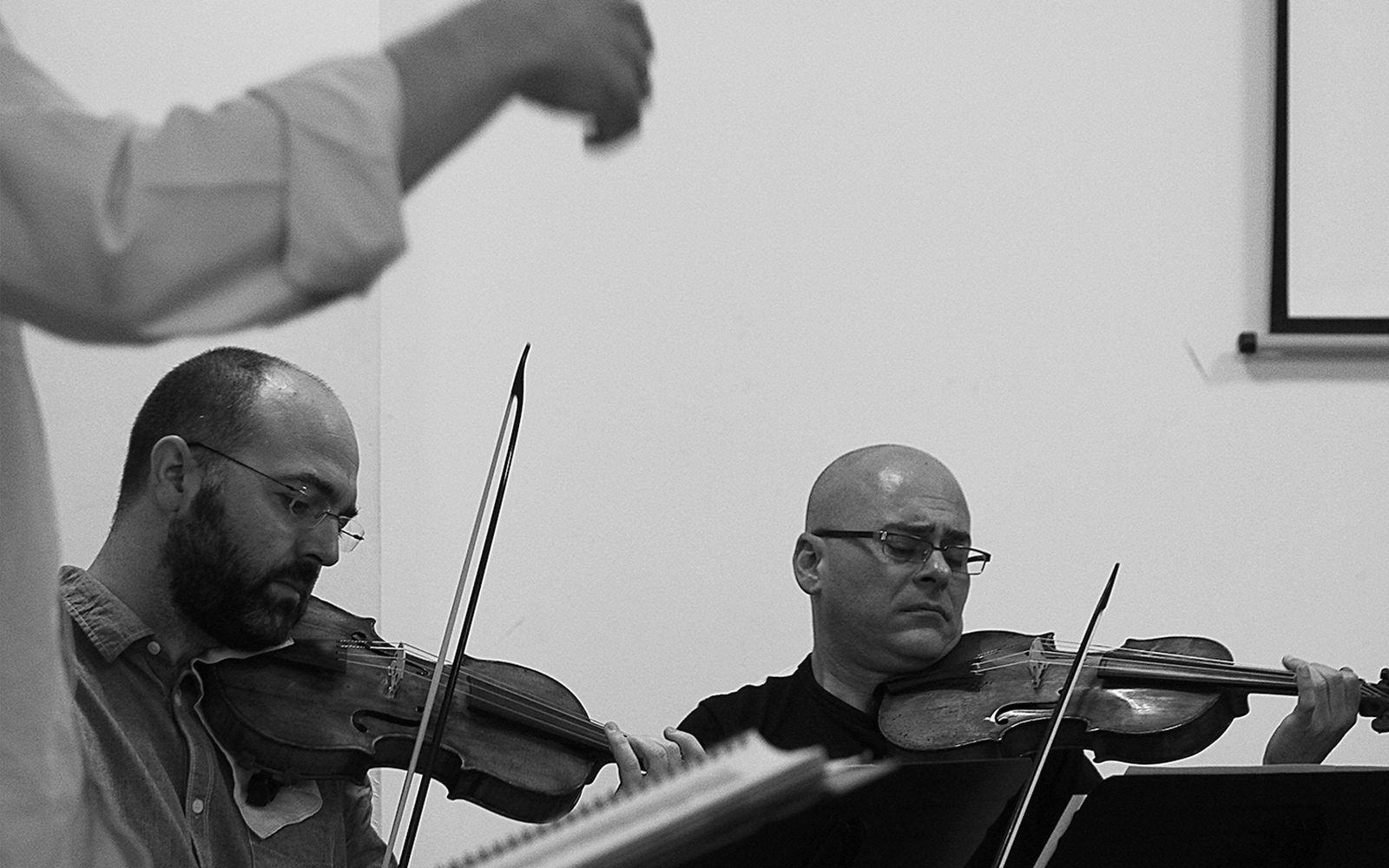 Pablo Prieto & Eduardo Fenoll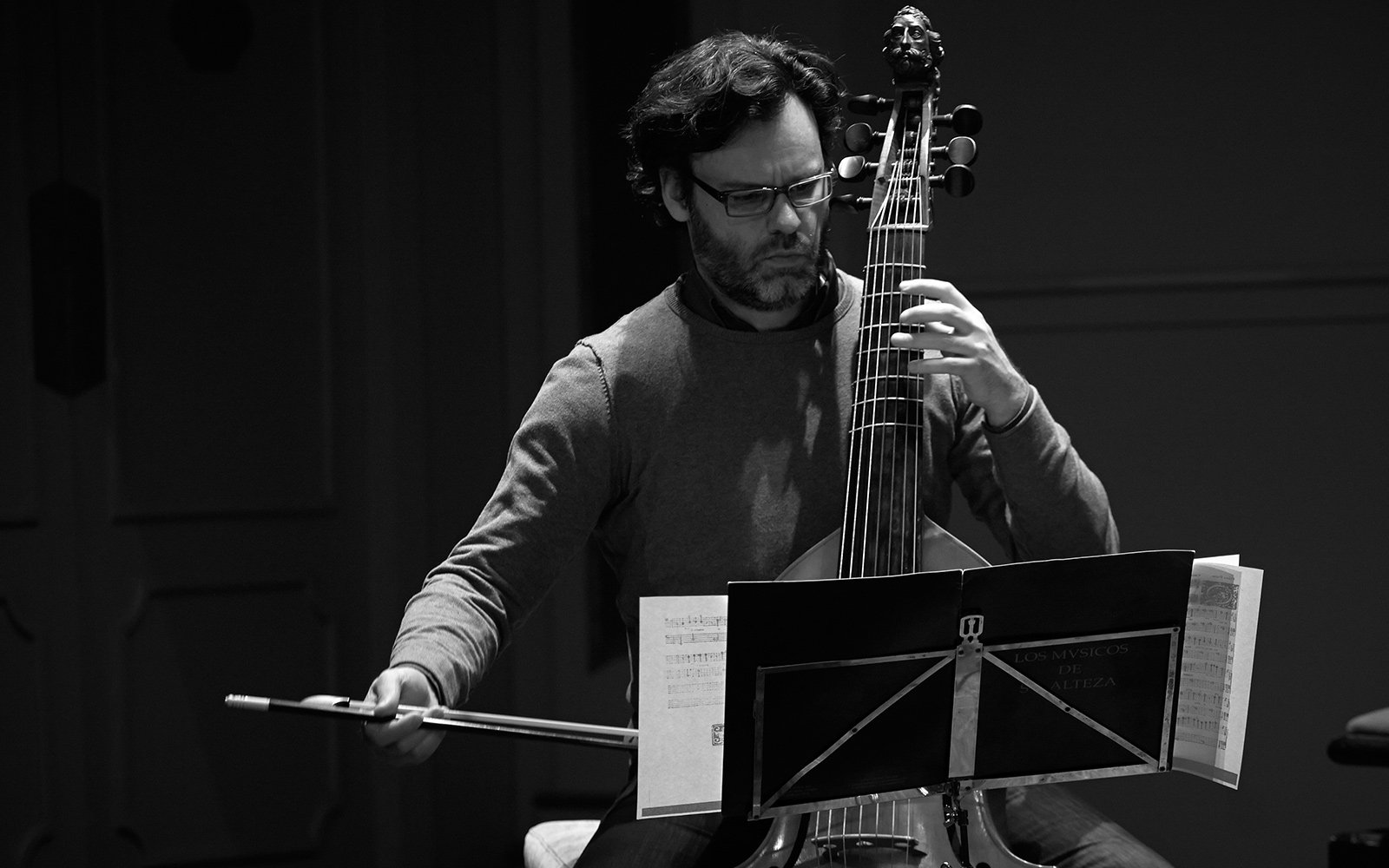 Pedro Reula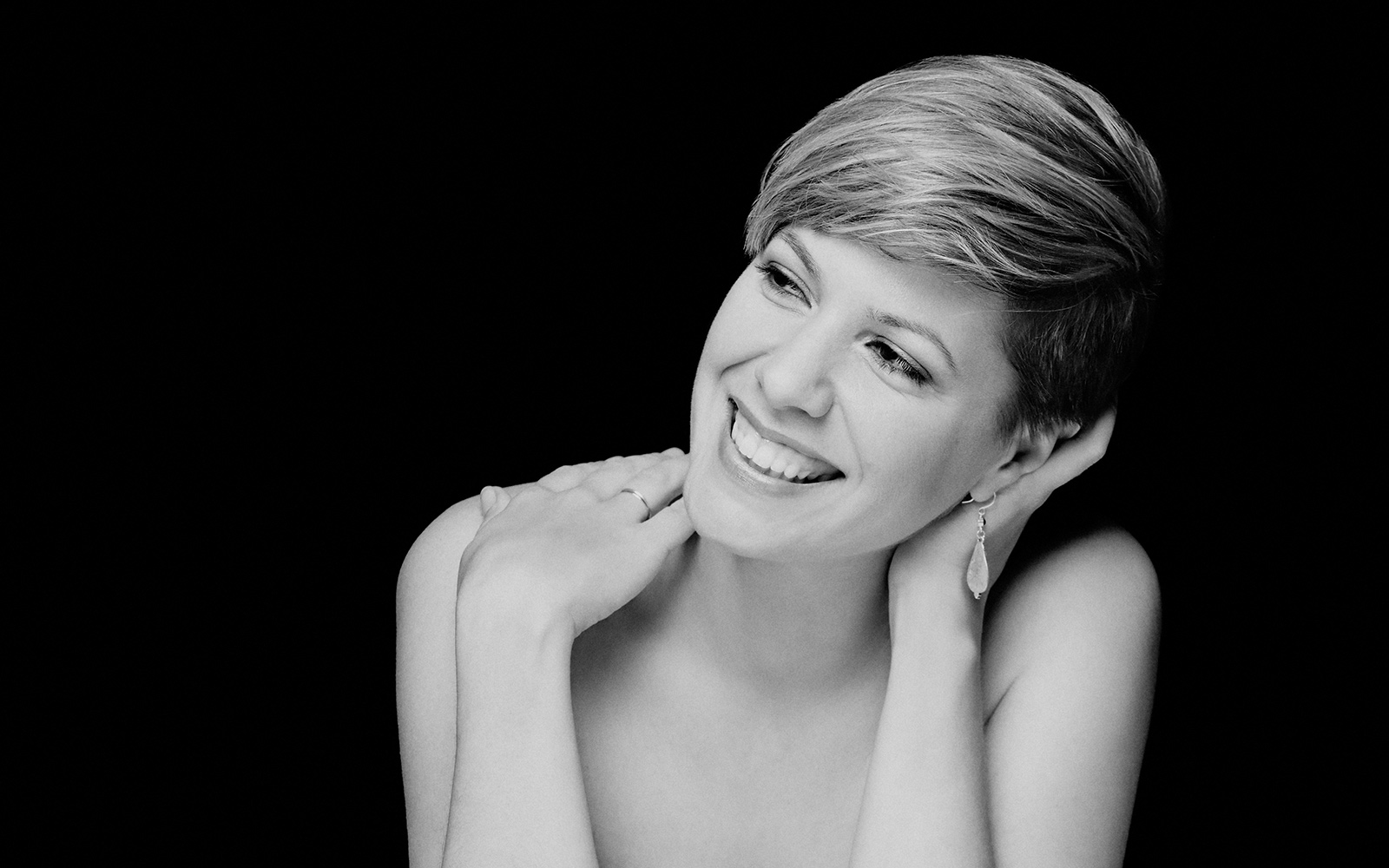 Olalla Alemán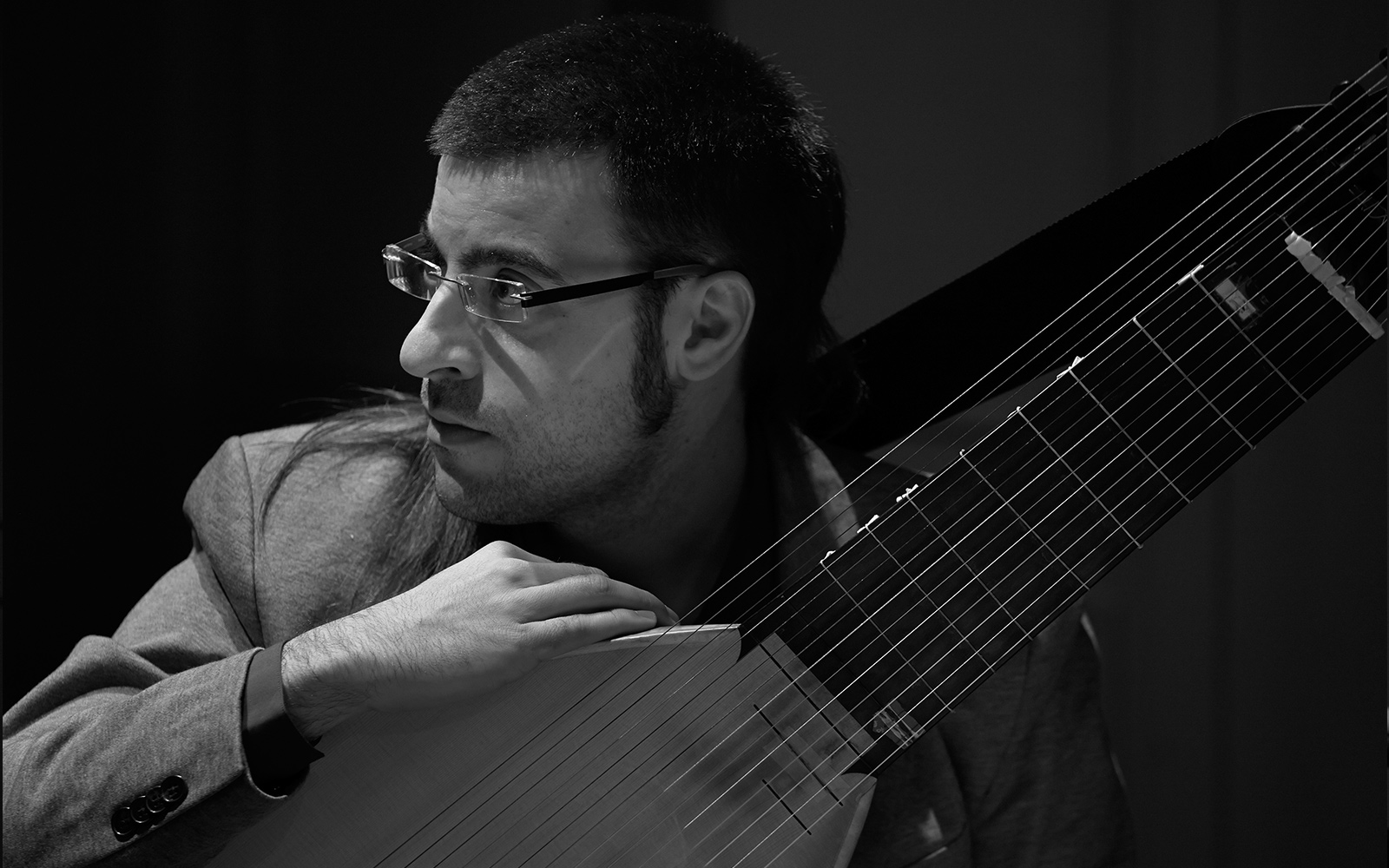 Josep Maria Martí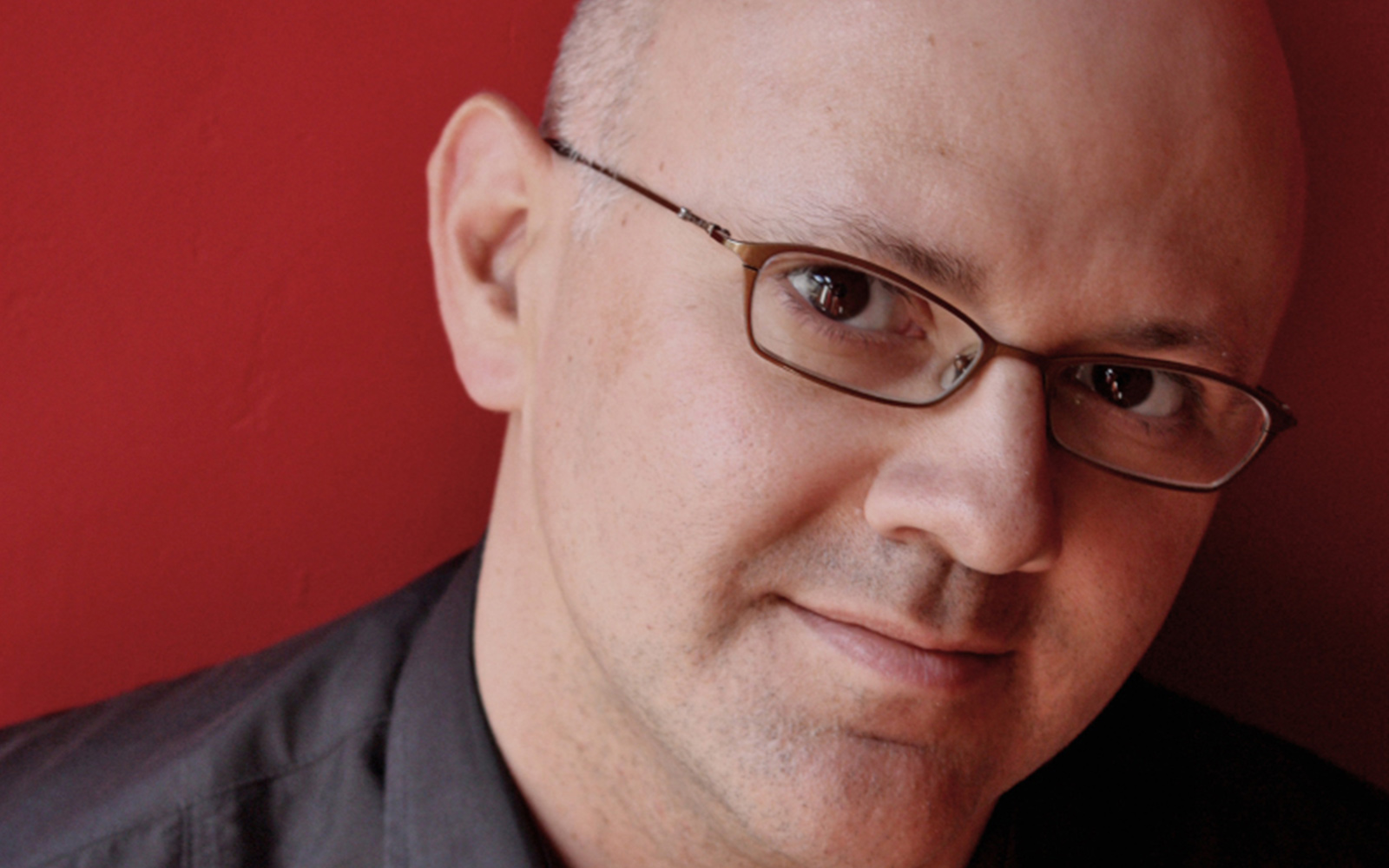 José Pizarro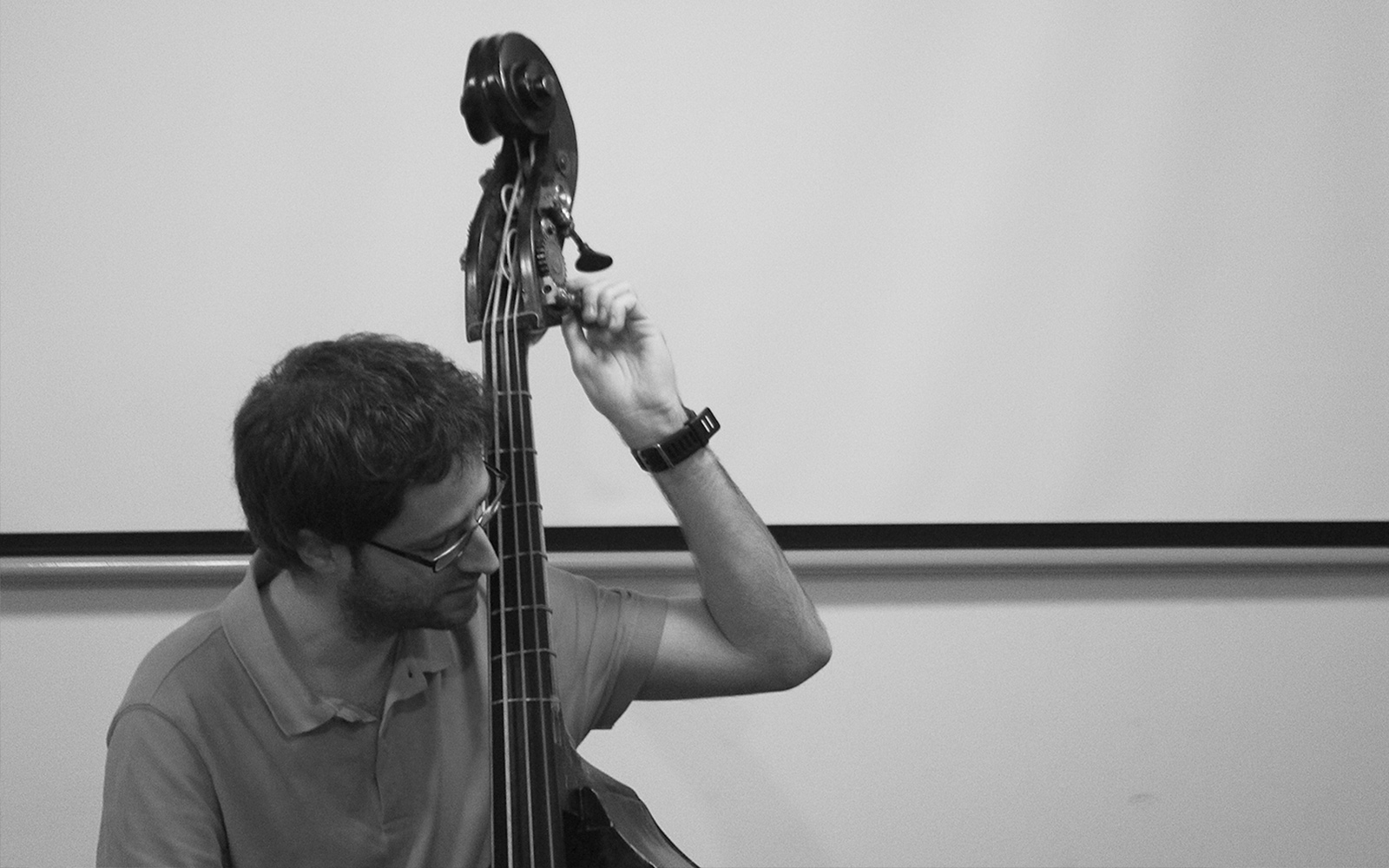 Roger Azcona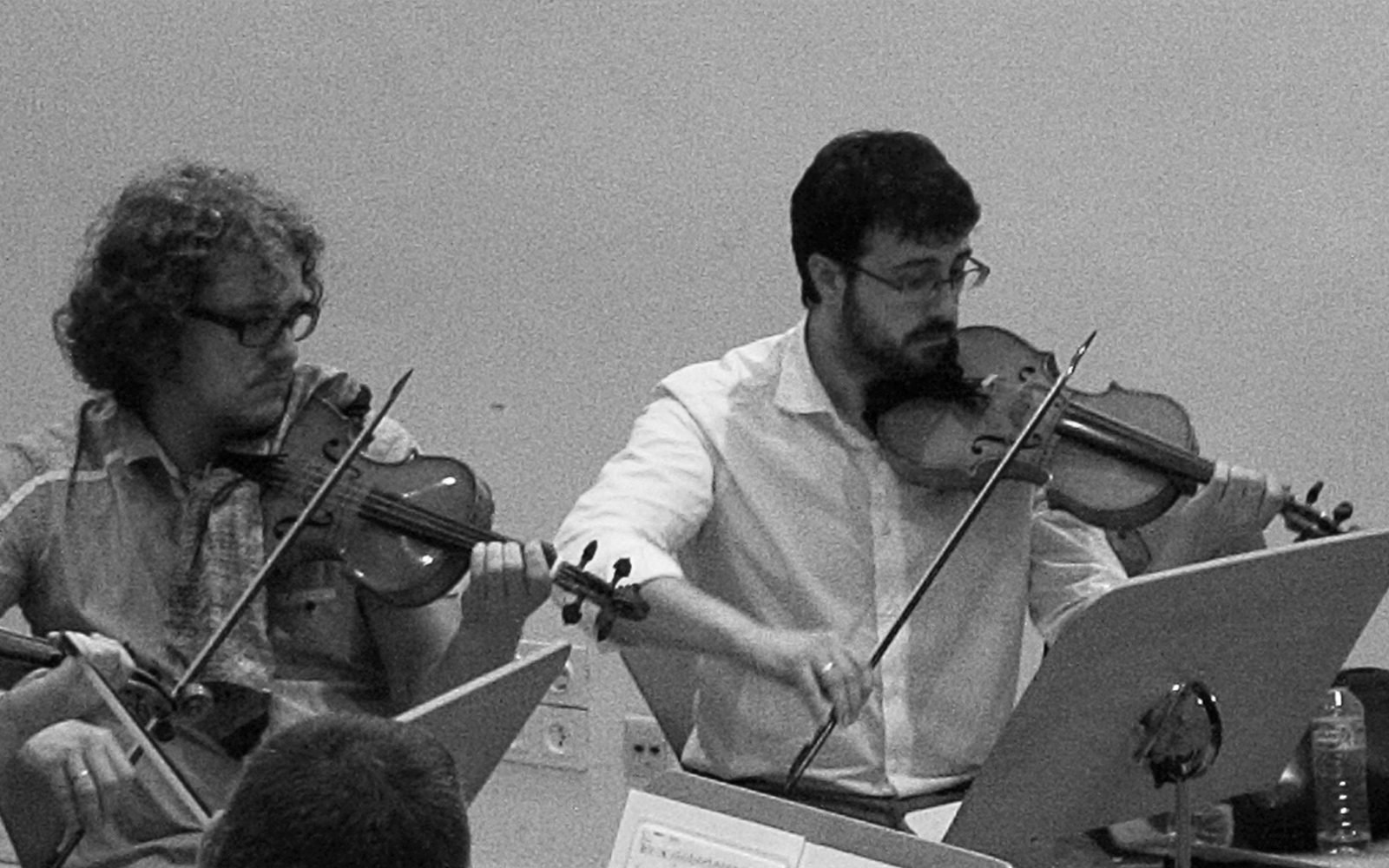 Juan Bernués & Sergio Franco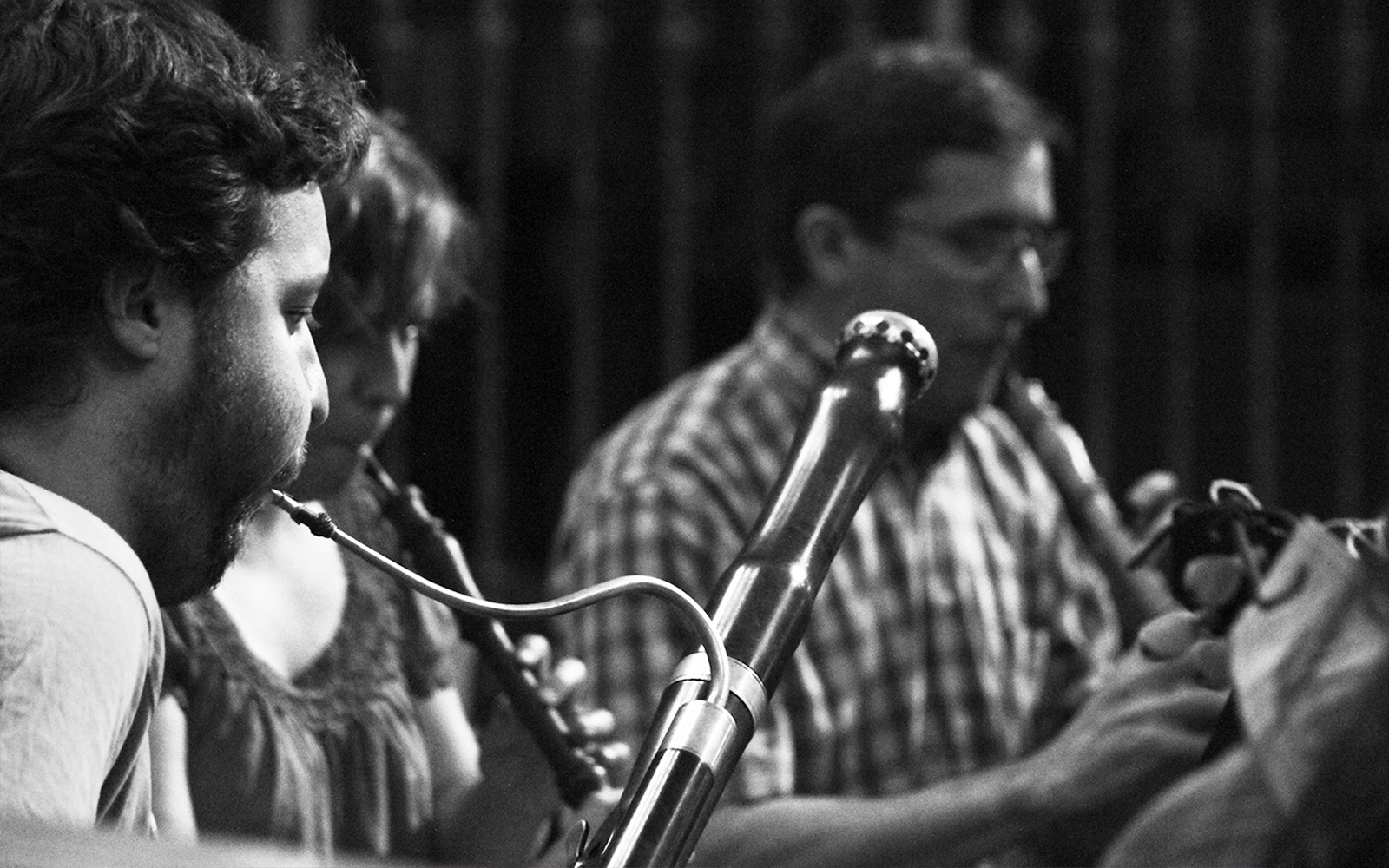 Joaquim Guerra, Pepa Megina & Francisco J. Gil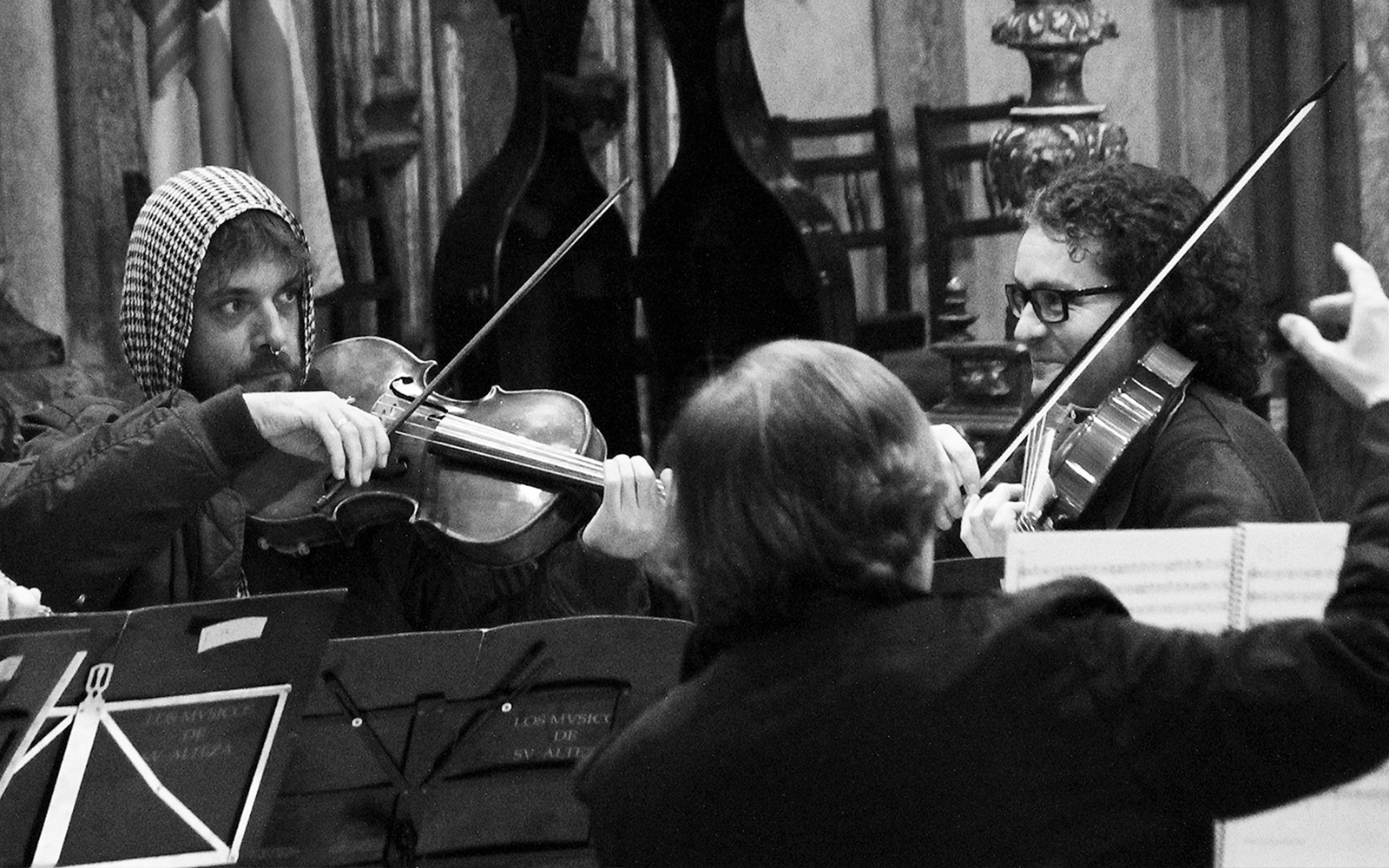 Natan Paruzel & Juan Luis Arcos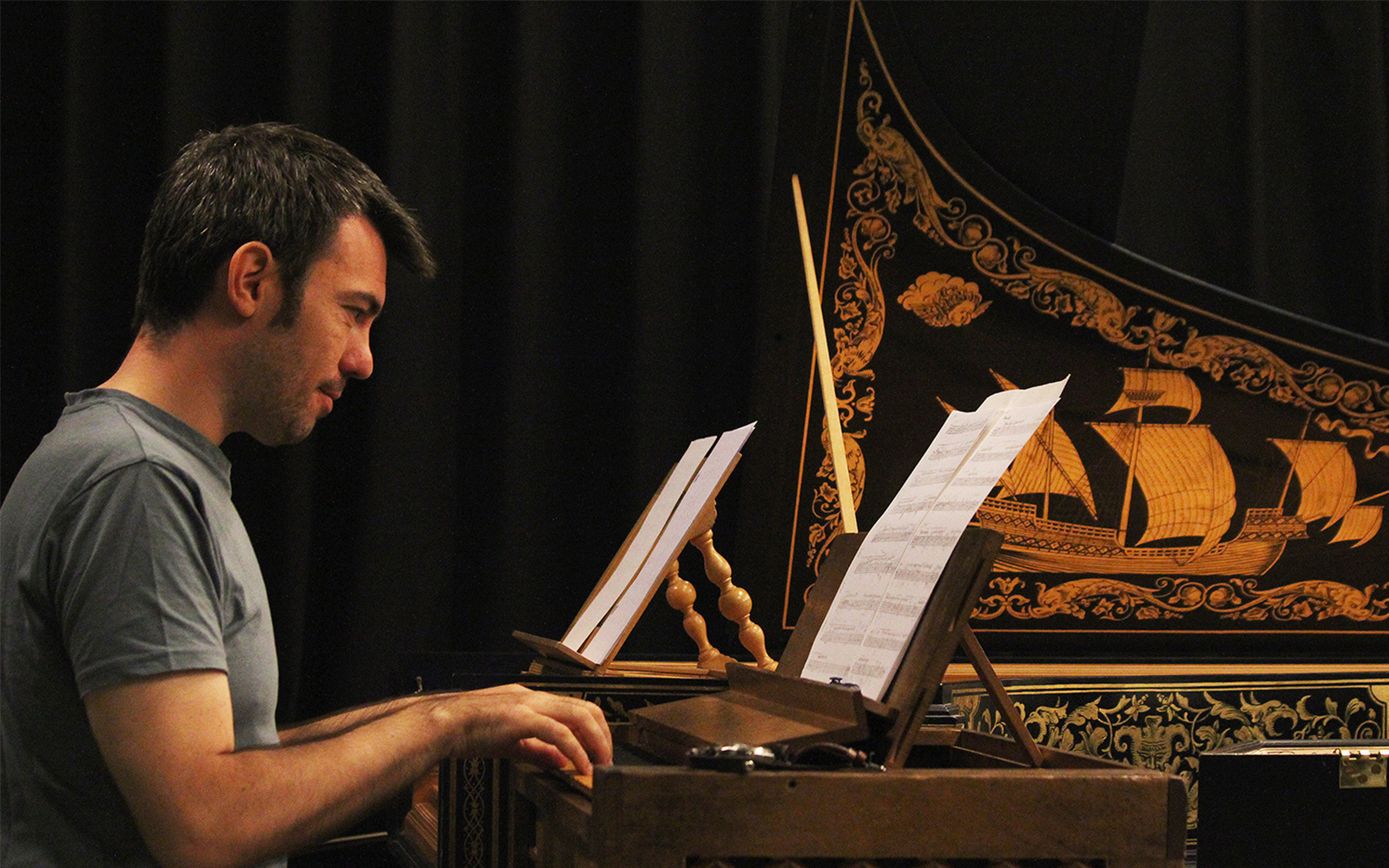 Alfonso Sebastián
¿Los Músicos de Su Alteza?
La elección del nombre de nuestro grupo tiene que ver con un personaje singular de la historia española del siglo XVII. Se trata del segundo Don Juan de Austria -o Don Juan José de Austria-, hijo bastardo del rey Felipe IV y de la actriz y cantante María Calderón, conocida como la Calderona. Aparte de sus intervenciones en la política y la guerra, fue Don Juan muy inclinado a toda clase de artes y saberes: pintaba, tocaba varios instrumentos, componía e incluso fomentó cierta incipiente renovación científica en España, precedente de los llamados novatores. En sus viajes diplomáticos y militares por Europa -Italia, Francia, Flandes, Portugal- aprovechó para procurarse música y contactos musicales. Durante los años 1669 a 1677 residió en Zaragoza en calidad de Vicario General de la Corona de Aragón, y en esta ciudad mantuvo un conjunto de reputados músicos de cámara que eran conocidos como los músicos de Su Alteza. Con ellos colaboró el maestro de capilla de El Pilar, Joseph Ruiz Samaniego (fl. 1653-†1670), uno de los más imaginativos compositores españoles de su tiempo. Aquellos músicos de Su Alteza contribuyeron a la renovación de la música española de la segunda mitad del siglo XVII, primero en Zaragoza y después en Madrid, cuando Don Juan se hizo cargo del gobierno (1677-1679) y puso en marcha una reforma de la Real Capilla. Dado que la recuperación de la obra de Ruiz Samaniego figuró entre nuestros primeros proyectos, y por nuestra residencia en Zaragoza, decidimos adoptar el nombre Los Músicos de Su Alteza en su recuerdo.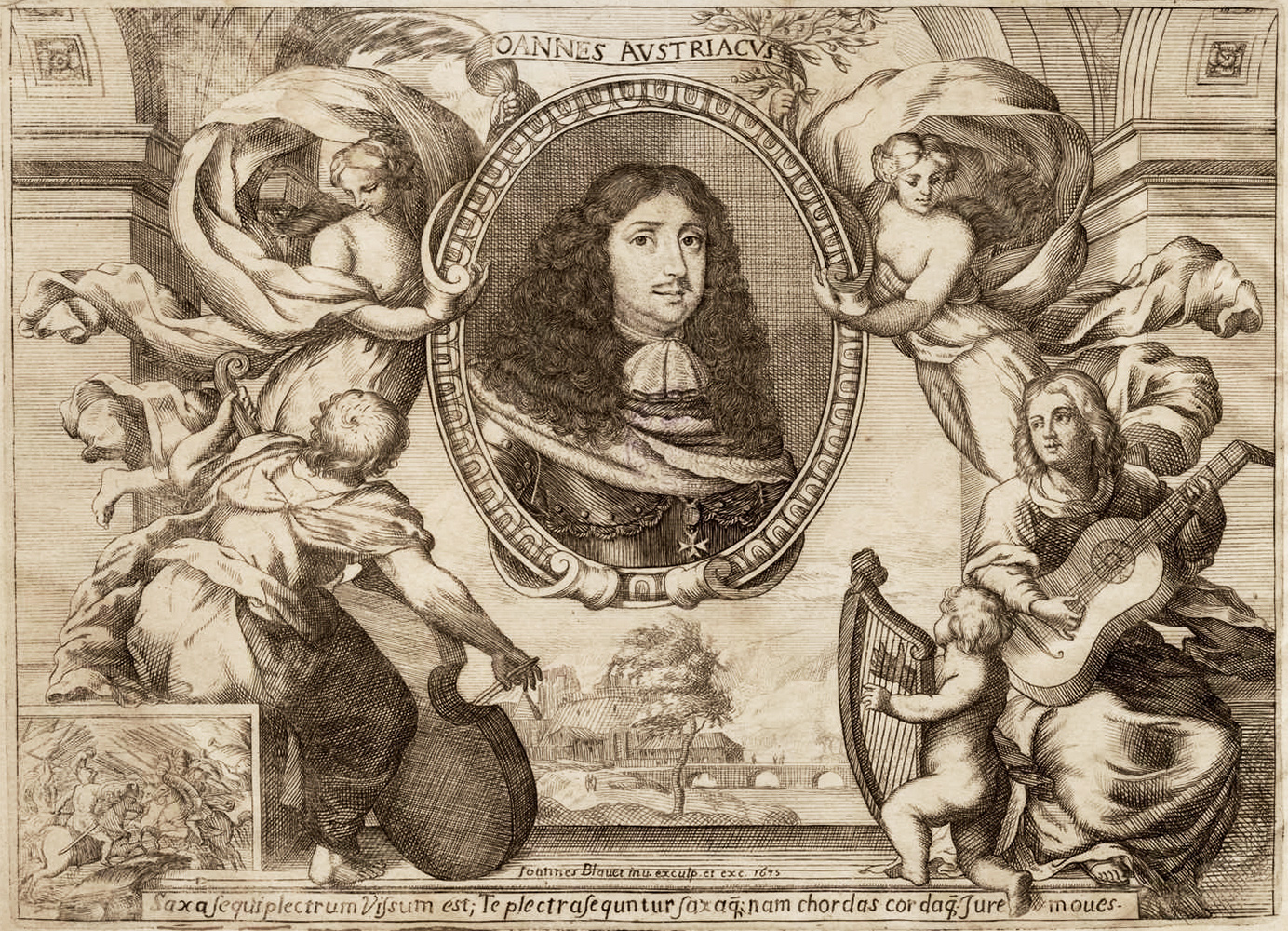 Han participado en proyectos de Los Músicos de Su Alteza
Elenco general alfabético de artistas que han participado en producciones de Los Músicos de Su Alteza (1992-2015)
Javier Aguirre, violonchelo Olalla Alemán, soprano Marta Almajano, soprano Jesús Alonso, tiorba-guitarra-archilaúd María Altadill, soprano Raquel Andueza, soprano Rubén Antón, violín Juan Luis Arcos, viola Javier Artigas, clave-órgano Xavier Astor, contrabajo Roger Azcona, contrabajo Francesc Xavier Banegas, sacabuche Bárbara Barros, violín Cristina Bayón, soprano Luis Bellver, sacabuche Miguel Bernal, tenor Miguel Bernal Ripoll, órgano Juan Bernués, violín Joseba Berrocal, oboe Montserrat Bertral, mezzosoprano Eugenia Boix, soprano Jordi Boltà, barítono Elena Borderías, violín Josep Borràs, bajón, bajoncillo y fagot Carmen Botella, soprano María Pilar Burgos, soprano Susana Cabrero, contralto Antonio Campillo, flauta travesera Soledad Cardoso, soprano Daniele Carnovich, bajo Íñigo Casalí, tenor y flauta dulce Joan Chic, violín Agostino Cirillo, flauta travesera Antonio Clares, viola Lluís Coll, corneta Gemma Coma Alabert, mezzosoprano Sandra Cotarelo, soprano Maria Crisol, fagot Carles Cristòbal, bajón Rupert Damerell, contratenor Luis Delgado, trompa Gabriel Díaz, contratenor Martín Domínguez, violín Eugenia Enguita, soprano Karin Ericsson, contralto María Espada, soprano Karim Farham, tenor Eduardo Fenoll, violín Guy Ferber, trompeta João Fernandes, bajo Jesús Fernández Baena, tiorba-guitarra y flauta dulce Marta Fernández Escamilla, violín Pepe F. Vera, flauta travesera Meritxell Ferrer, fagot Daniel Francés, violín Sergio Franco, violín Giuseppe Frau, trompeta Claudia Gabrieli, violonchelo Simeón Galduf, sacabuche Javier Gallego, violín Jesús García Aréjula, barítono Edwin García, tiorba-guitarra Blanca Gascón, timbales Pablo Gastaminza, violín y viola Luis Gastelumendi, caja Francisco J. Gil, oboe-oboe d'amore-oboe da caccia-oboe clásico Jordi Gimènez sacabuche Beatriz Gimeno, mezzosoprano Vicente Giner, trompa José María González, barítono Luis Antonio González, clave-órgano y dirección Carlos González, caja Chiara Granata, arpa Agnieszka Grzywacz, soprano Toni Gubau, contratenor Joaquim Guerra, bajón, bajoncillo y fagot Trent Hellerstein, contrabajo Lucidio Hernández, flauta de pico José Hernández Pastor, contratenor Marta Infante, mezzosoprano Silvia Jiménez, contrabajo Pilar Juan, violonchelo Maite Larburu, violín Leonor de Lera, violín Pablo López, trompeta Daniel Lorenzo, viola Manolo I. Lou, tiorba-guitarra Enric Lloréns, violín Isabel Maicas, arpa Josep Maria Martí, tiorba-chitarrone-guitarra-archilaúd Jesús Martín Moro, órgano Guillermo Martínez. violonchelo Gloria Martínez, arpa Mamen Martínez, arpa Helia Martínez, contralto Paz Martínez, contralto Alberto Martínez Molina, clave Marisa Martins, mezzosoprano René Maze, trompeta Miguel Mediano, tenor Pepa Megina, oboe-oboe d'amore-oboe da caccia-oboe clásico y flauta de pico Manuel Mendaña, tenor José Menéndez, flauta de pico Juan Mesana, violín y viola Rafael Mira, trompa Joan Miró, flauta de pico Santi Mirón, contrabajo Silvia Mondino, violín Vega Montero, contrabajo Guadalupe del Moral, violín Pilar Moral, soprano Letizia Moros, viola Carmen Muñoz, soprano Rafael Muñoz, tiorba-guitarra Javier Murillo, trompeta Vicent Navarro, trompa Euken Ostolaza, tenor Ana María Otxoa, soprano David Palanca, clave-órgano Natan Paruzel, viola Ramón Peñaranda, sacabuche Mónica Perales, contralto Josep Pieres, bajo Olga Pitarch, soprano José Pizarro, tenor César Polo, tenor Rodney Prada, lirone Pablo Prieto, violín Ramsés Puente, violín Xavier Puertas, contrabajo José Ramírez, sopranista Puri Ramos, viola da gamba Pedro Reula, violonchelo y viola da gamba Ventura Rico, contrabajo Miguel Rincón, tiorba-guitarra Albert Romaguera, oboe Leonardo Rossi, violín Xavier Sabata, contratenor Fernando Sánchez, bajón y bajoncillo Elena Sancho, soprano Núria Sanromá, corneta Sylvia Schwartz, soprano Wilhelm Schwinghammer, bajo Alfonso Sebastián, clave-órgano Bárbara Sela, bajón, fagot y flauta dulce Raquel Sobrino, violín Lluís Solé, corneta Enrike Solinís, archilaúd Prisca Stalmarski, violín Anna Tobella, mezzosoprano Javier Tuñón, contrabajo Lina Tur Bonet, violín Marisa Vila, soprano Manuel Vilas, arpa Alejandro Villar, flauta de pico Iosu Yeregui, bajo Ainhoa Zubillaga, mezzosoprano
Colaboraciones con otras formaciones y artistas
Coro Amici Musicae (dir. Andrés Ibiricu)
Antigua Capilla Hispana (dir. Javier Ares)
Coro de Cámara de la Universidad de Salamanca (dir. Bernardo García Bernalt)
Jesús María Caramanzana (escenógrafo)
Compañía de Teatro Clásico de Pedro María Sánchez
Eduardo González (actor y director de escena)
Choeur de Chambre de Rouen (dir. Daniel Bargier)
Rafael R. Villalobos (director de escena)
Elenco de músicos que han participado como alumnos y colaboradores en talleres y encuentros didácticos con Los Músicos de Su Alteza
Ramón Abad, flauta dulce Carmen Alaminos, viola da gamba Guillermo Alcober, violín Nuno Alexandrino, órgano Olman Alfaro, tenor Andrea Alvarado Rodríguez, violín Cecilia Amelibia, oboe Berta Ares, violín Emily Asay, violín Gabriel Atienza, oboe Mariel Alejandra Ávila Trasviña, violín Albert Baena, contratenor Kevin Iván Barajas Lomelí, violonchelo Verónica Barbed, violín Sergio Baro, viola Antonio Barragán, bajo Víctor Belmonte, sacabuche Guillermo Beltrán, oboe Vicente Beltrán, fagot Francesco Bergamini, violín Isabel Bermejo, oboe Erea Blanco, clave Daniel Buendía, clave y órgano Flàvia Camacho, soprano Celeste Camarena Mojica, mezzosoprano Xavel Camiña, violín Joan Carazo, violín María Carrasco, violín Laura Angélica Carrasco Curintzita, órgano Victoria Cassano, soprano Adrián Castro, sacabuche Lucie Chabard, clave Cécile Chartrain, clave Albert Coll, bajo Pablo Contreras, tiorba y archilaúd Daniel Cornejo Córdova, tenor Jorge Corral, sacabuche Irán Aldonza Dávila Sandoval, violín Christian Delclos, bajo Nisamar Díaz, soprano Judith Merari Díaz Bravo, soprano Indra Díez de Sollano, soprano Ester Domingo, violonchelo José Duce, bajo Copitzi Enríquez Toledo, alto Eduardo Escartí, contratenor Óscar Escudero, oboe María Sofía Espiga Fonseca, viola Miguel Esteve, sacabuche Sara Fernández, oboe Marta Fernández Escamilla, violín Pablo Fitzgerald, tiorba y archilaúd Pedro Fraile, flauta dulce José Manuel Fuentes, violín Francesc Gamón, clave Ismael García, corneta Lidia Patricia García, violín Julieta García Reyes, mezzosoprano Miroslava García Sánchez, violín Héctor Garoz, bajón Andrea Gelain, violonchelo Borja Gimeno, violín Carlos González, órgano Irene González, clave Juan González, sacabuche Víctor González, clave y órgano Yoselin González Sandoval, soprano Maite Gutiérrez, alto Miguel Hernández, violone Rosario Hidalgo, alto Juan Miguel Illán, flauta dulce Nohemí Jaime Delgado, soprano Jesús Jara, serpentón Nica Jonicenoka, órgano Doriane Leau, clave Teresa López, oboe Moisés Lorenzo, fagot Jorge Losana, tenor Miguel Ángel Luzarraga, contrabajo Moisés Maroto, flauta dulce Borja Martín, sacabuche Marta Martín, violín Daniel Martínez, violín Francisco Martínez Molotla, violín Raquel Masmano, violín Gerardo Méndez Juárez, violín Jorge Merchán, violonchelo Hanna Milner, violín Rex Colin Mitchell, violonchelo Pablo Moreno, clave y órgano Ana Rosa Morfín Chávez, soprano Violeta Mur, violonchelo Celia Ormad, oboe Abner Jairo Ortiz García, violonchelo David Palanca, clave y órgano Martí Pàmies, sacabuche Nicola Paoli, violonchelo Ana María Pazos, corneta Aurora Peña, soprano José Joaquín Perales, órgano Francisco Pérez, sacabuche Isabel Pérez Descals, oboe Ramón Pérez-Sindín, clave Ilduara Perianes, soprano Inés Pinto, soprano Ferran Pisà, tiorba y archilaúd Helena Pla, violín Francesc Puche, violín Darío Puyuelo, oboe Anabel Quirós, soprano Juan Ramírez, sacabuche Lucía Ramírez, flauta dulce César Oswaldo Reyes Ceniceros, violín Emiliano Riveroll, corneta Héctor Robles, violín Olga Rodón, flauta dulce Alba Rodríguez, violonchelo Yazmina Romero, violín Luz Andrea Romero Castellanos, soprano Daniel Rubio, clave y órgano Rocío Ruiz, soprano Marta Sala, violonchelo Tania G. Sánchez Bautista, soprano Martí Sancliment, oboe Ricardo Sandoval Johnston, bajo Irene Sanz, contrabajo Liudmila Sevostyanova, violín Salvador Sierra Zaragoza, tenor Ana Simón, violín María Simón, violonchelo Marlene Michelle Solís Jiménez, soprano Marc Sumsi, clave Juan Arnulfo Tello Soto, barítono Patricio Daniel Valdespino López, tenor Arnoldo Valladares Ortiz, contrabajo María Valle, viola Belén Vaquero, mezzosoprano Brenna Ward, alto Judith Zamilpa Paredes, alto